Discussion Starter
·
#1
·
Just rapped up the install of my new Arnott air suspension system (Part #9024) on my 2012 Gangsta.
Went relatively smooth. The only thing that needed to be done was to drill new holes on the support bracket for the air compressor
so it sat closer to the frame, everything else was plug-n-play. Also picked up a nice switch that I mounted
on the bars between the grip and the controls all wiring is internal. I got approximately 3 1/2 inches of travel.
http://www.arnottairsuspension.com/products/productDetails.asp?groupId=158
(they don't have the Gangsta listed for fitment)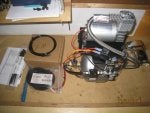 Really nice setup, came in box as you see it.
As you could see it didn't have to go over much to clear the body.
New compared to old.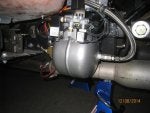 Unit hanging from frame rail.
After all the wiring and plumbing was done I installed the switch.
I also added a pressure gauge from Dekota Digital.
Didn't get a chance to ride it yet, temp here in NY NY is in single digits.