My question is about how to weld from underneath the trike without getting red hot little "balls of fire" dropped down on me. Actually its a wire feed MIG machine that does MIG using solid wire or FCAW using flux-cored wire which is what I will be doing.

I just bought a tilt-kit from Adrian which looks great!, but I am a little nervous because I am going to have to MIG weld mine to the frame which I have never done before. The hard part will be welding

UPSIDE DOWN

(i.e inverted welding from underneath) until I can tilt the body up and weld from the top. I am planning on renting a Hobart 125A "Handler" using no gas, just using flux-filled .030 wire.



Adrian supplied 1.5" x 1/8" thick square box tubing. When I went to buy an extra piece I accidentally got a piece of 3/16" thick but it should be OK (I hope).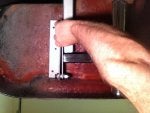 On my 57 Chevy, I have this darn fiberglass body obstruction underneath shown between the very back edge of the body and the bolt hinge that is preventing me from sliding my pivot bolt as far back as Adrian would like me to.

The only way to move the bolt back is to move the hinge pin out wide past the "bump" where it gets flat again.




I found a great informational link that I think any of use could benefit from regarding welding. I have read it twice now.

See:
http://stickweld.com/basic-information/190/

http://www.autobodystore.com/new_page_11.shtml

http://www.millerwelds.com/resources/articles/index.php?page=articles8.html

Like I said, I have never welded before. If anyone has any comments please let me hear em!

I think the wire that comes with the unit is shown below.